Servicing
We service all major car brands following the manufacturers schedule.
We have the latest electronic diagnostic equipment to connect with all modern car brands.
All of our service engineers have been main-dealer trained.
A full service can usually be completed in one day and includes:
changing the oil filter
changing the engine oil
replacing sparkplugs
changing the air filter
check and adjust rear parking brake
checking and replacing pollen filter if neccessary
check and top up transmission oil.
check and change tyres if neccessary
Call 01273 685141 to make a booking.
Free collection and drop off service anywhere within BN1 & BN2 area.
The team at A.Harris and Son have experience serving all major car brands including: AM General, Acura, Alfa Romeo, Aston Martin, Audi, BMW, Bentley, Chevrolet, Chrysler, Daewoo, Daihatsu, Ferrari, Ford, GMC, Honda, Hyundai, Isuzu, Jaguar, Jeep, Kia, Lamborghini, Land Rover, Lexus, Lotus, Mini, Maserati, Mazda, Mercedes-Benz, Mitsubishi, Nissan, Peugeot, Porsche, Rolls-Royce, Saab, Smart, Subaru, Suzuki, Toyota, Volkswagen, Volvo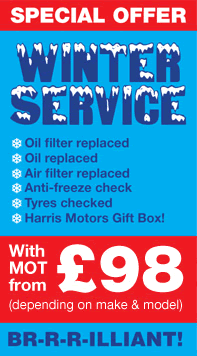 Dave's Saturday Drop-in Clinic
Dave Harris will be available on Saturdays between 9am and 1pm to dicuss any of your car problems without charge.
Selling your car?
Harris Motors offers a complete car sales service.
We'll market you car and display it on our forecourt. Only taking a 10% fee on the completion of a sale.